PAINTING CARS SINCE 1962
FIND A SHOP NEAR YOU
PAINTING CARS SINCE 1962
FIND A SHOP NEAR YOU
Customer Testimonials​
Had body work done and got my entire car painted. These guys did a fantastic job. Not only did Steve take the time to go over the work that needed done,he also made me feel very reassured about the process and had a great attitude. My car was ready earlier than the day quoted. My car looked amazing. I could not be happier and the price was a great deal. I will be recommending them to everyone I know. Econo gets two thumbs up.
Danny G.
Words can't even describe what I'm feeling , maybe because I'm still in shock ! The paint job was breath taking, not only are they very professional, my vehicle looked like it just rolled off the show room floor ! I'd recommend them to the pope if he needed his car painted !
V. Bee
This place is amazing, my wife took our cars and got an amazing deal and service. I'm military currently deployed and the fact they did not take advantage of my wife showed true professionalism. I will be sending all my friends and family to this place. A+
Mason B.
Took my 09 honda fit for PAINT JOB. was actually SUPRISED at what 328 dollars did to my car. This dude at the COUNTER John was just SUPERB from the 1st phone call until giving me the keys to my SMILING FACE!! A KING KONG THUMBS UP !!
Robin R.
Jim over at Econo Auto Painting. Knock it out of the park !!!! I had 3 estimates 2 of 3 estimates were over $8000 , so I had Econo paint my car with their top of the line paint job. It was $7000 less than the other 2 guys. I got to tell you , Jim took my car and gave it a great new look. I had a couple concerns but he assured me that they would take good care of me . That they did !! If you are looking for a great job at a great rate then see Jim at Econo!!! Thank you Econo Auto Painting. Sincerely happy customer!!!
John G.
I had my car done here. I really commends the staff on their professionalism. My car looked liked a new car when they finished. The price I had to pay was incredible. Thanks for working during this pandemic. I'm very satisfied.
B. Ann B.
Painting Cars Since 1962
Since 1962 Econo® Auto Painting has been doing what we do best – auto painting. We don't claim to be a collision shop. We are not a custom shop. We are a paint and body shop and we paint cars! Of course we will fix your dents and dings and replace panels and repair light collision damage, our main objective is to get your vehicle looking good again.
Because Econo® has more than 30 locations we have the buying power to secure competitive pricing for Axalta (formerly Dupont) paints, a company known for quality. These savings are then passed along to our customers in the form of great prices. When you come in to one of our locations for an estimate you can be sure you are getting the best price around. We'll ask you questions about your vehicle and your plans for it in the future. Read more..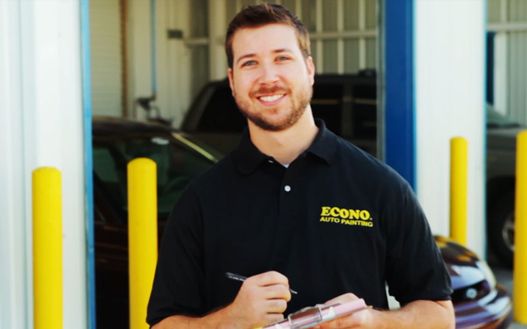 Free Estimate
Manager inspects car with customer, the Work Order detailing the paint process chosen and cost is signed. Completion date is given and vehicle is left for work to begin.
Auto Body Repairs Begin
Sanding & Masking
Auto Painting
Restore
Quality Assurance
Customer Pick-Up