PAINTING CARS SINCE 1962
FIND A SHOP NEAR YOU
PAINTING CARS SINCE 1962
FIND A SHOP NEAR YOU
Customer Testimonials​
I was going to get the premium paint job for my 18 year old truck but was talked into the lowest priced job. Was impressed by John's honesty and how he wanted to save me money even if his business would make less. How often does that happen? And in 3 days! Maaco wanted to keep it 7-9 days! The top of my truck was rusted but not anymore! It looks amazing! Thank you John!
Mary G.
Just had my 2000 Mazda miata mx5 painted are econo and it looks great, they did an amazing job! I was impressed with quality work.
Robert S.
Definitely loss of words. Econo did a amazing job! When we pulled up my boyfriend was almost in tears when we saw it out front. His Srt-4 was in bad shape clear coat was pretty much gone. The paint was in bad shape as well. We just bought the car. So we went from white to a blue he picked out. The price was amazing and just took about a week. I was a little hesitant because of some bad reviews I read. Don't hesitate to take your car down for a estimate. There was like 2 small misses I found, but they said to bring the car back after a month when it settles and they will fix the areas. Awesome customer service!!!!
Linda L.
Very professional. I can't express how satisfying I am. My truck was DONE RIGHT. The manager is very cool. Gave me good details on the after care. I was amazed to see the color on my truck I was so happy y'all just don't know. He made my day. Did a wonderful job. I love it. Even put my tag on for me. Thank you. They have a sale going on too so y'all better gone go before it ends. I LOVE THIS LOCATION.
A. Aldridge
Had body work done and got my entire car painted. These guys did a fantastic job. Not only did Steve take the time to go over the work that needed done,he also made me feel very reassured about the process and had a great attitude. My car was ready earlier than the day quoted. My car looked amazing. I could not be happier and the price was a great deal. I will be recommending them to everyone I know. Econo gets two thumbs up.
Danny G.
Words can't even describe what I'm feeling , maybe because I'm still in shock ! The paint job was breath taking, not only are they very professional, my vehicle looked like it just rolled off the show room floor ! I'd recommend them to the pope if he needed his car painted !
V. Bee
Painting Cars Since 1962
Since 1962 Econo® Auto Painting has been doing what we do best – auto painting. We don't claim to be a collision shop. We are not a custom shop. We are a paint and body shop and we paint cars! Of course we will fix your dents and dings and replace panels and repair light collision damage, our main objective is to get your vehicle looking good again.
Because Econo® has more than 30 locations we have the buying power to secure competitive pricing for Axalta (formerly Dupont) paints, a company known for quality. These savings are then passed along to our customers in the form of great prices. When you come in to one of our locations for an estimate you can be sure you are getting the best price around. We'll ask you questions about your vehicle and your plans for it in the future. Read more..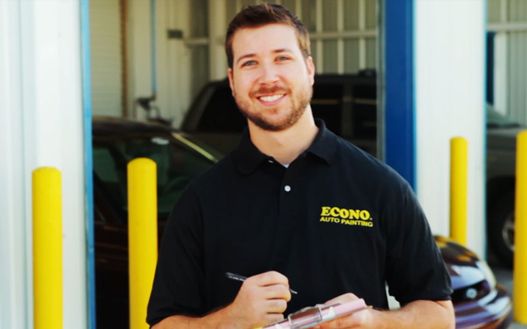 Free Estimate
Manager inspects car with customer, the Work Order detailing the paint process chosen and cost is signed. Completion date is given and vehicle is left for work to begin.
Auto Body Repairs Begin
Sanding & Masking
Auto Painting
Restore
Quality Assurance
Customer Pick-Up