PAINTING CARS SINCE 1962
FIND A SHOP NEAR YOU
Customer Testimonials​
I am so very PROUD of MY Experience with the Econo Paint on Kingston pk. Perfect Adorable Paint Job on My 2003 Nissan Maxima they painted it an OUTSTANDING GREY.. I Am So So Happy.. They help me.. they r very courtesy. Michael Helped Me & He was great. Matter fact they painted our work truck it looked rough but NOT ANY LONGER IT LOOKS NEW NOW.. THANK YOU ECONO PAINT U GUYS ROCK.. I am bring u a 3rd vehicle.. Awesome team @Econo Paint on Kingston pk. Knoxville Tn..
Joy B. (Knoxville TN)
We recently bought a red 1994 Jeep Wrangler (soft-top). The Jeep came from a one owner from Ohio. It had several places rusted through. We did all of the body work at home before went took it for an estimate. The staff was very helpful and quoted me the sale price and said if I got it to them soon it would be ready a couple of days later. They did a fantastic job. I worried about how they would handle the soft-top and there wasn't any overspray or missed places at all. We are overly satisfied. What a great value! What a great job!
Billy P. (Knoxville)
My truck had rust from weather and rain. And when it was finished it looked amazing.
Natalie J. (Ft. Pierce FL)
Economic way to spruce up your ride.
Jim R. (Memphis-Watkins St.)
They did a good Job on my car. They change the color from red to black.
Javier G. (Lakeland FL)
Painting Cars Since 1962
Since 1962 Econo® Auto Painting has been doing what we do best – auto painting. We don't claim to be a collision shop. We are not a custom shop. We are a paint and body shop and we paint cars! Of course we will fix your dents and dings and replace panels and repair light collision damage, our main objective is to get your vehicle looking good again. Because Econo® has more than 30 locations we have the buying power to secure competitive pricing for Axalta (formerly Dupont) paints, a company known for quality. These savings are then passed along to our customers in the form of great prices. When you come in to one of our locations for an estimate you can be sure you are getting the best price around. We'll ask you questions about your vehicle and your plans for it in the future.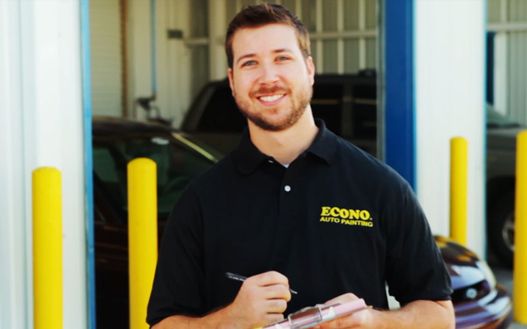 Free Estimate
Manager inspects car with customer, the Work Order detailing the paint process chosen and cost is signed. Completion date is given and vehicle is left for work to begin.
Auto Body Repairs Begin
If body work repairs are necessary, the body technician removes the damaged parts, makes other needed repairs, replaces parts and sands, primes and seals damaged areas.
Sanding & Masking
Sander removes emblems, sands and preps. Masker cleans and tapes chrome and windows.
Auto Painting
Painter verifies vehicle painting process order and paint color mix. Desired paint is applied in 3 coats.
Restore
Detailer removes tape and paper, cleans chrome and windows, reinstalls tags, wipers and any other emblems removed.
Quality Assurance
Manager performs final quality inspections and notifies customer of job completion.
Customer Pick-Up
Customer inspects completed job, completes final paperwork and Written Guarantee is completed.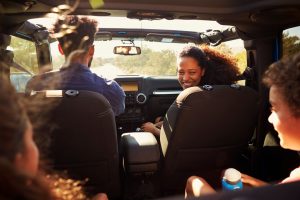 Getting Ready for a Family Road Trip You've got the time off work, the kids are out of school and you are in the final
Read More »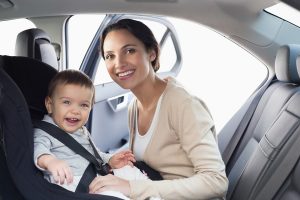 Keep Your Kids Safe in the Car With summer fast approaching, the time spent in your car with your children is likely to increase. As
Read More »
Keep Your Teenager Safe on The Road If you're the proud parent of a teen just about to hit the road with a brand-new permit
Read More »